Regenerated preliminary consumed industrial raw materials according to UNI 10667.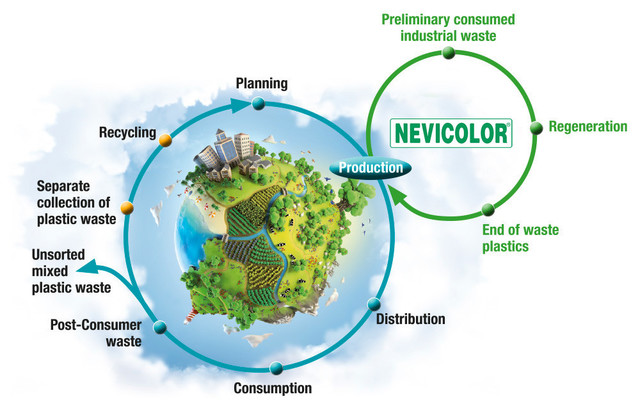 Our provided service: Circular Economy
Circular Economy is a service that we provide as a means of ecological opportunity to collect your industrial plastic waste with the purpose of regenerating it through ecological processes. This service consist in fetching your industrial plastic waste that we regenerate in granules. Our aim is to respect the environment, reduce emissions and plastic pollution.
Plastic industrial waste collection:
we provide you with a container of 2x6 mt. in order to collect all the plastic industrial waste. Each time we come and collect the container filled with your plastic industrial waste giving you in turns an empty container in order to enable you to keep collecting the industrial waste.
Among the industrial waste we also collect grinded material for the purpose of being regrinded.
Grinding:
then all the materials are ground with specific methods in specific mills. At this stage material turns back to its natural shapes with the purpose of being reprocessed in accordance with customer needs.
Dedusting:
this process is combined with grinding and it consists in cleaning granules by eliminating the dust which lays on the surface of the granules.
Extrusion of the materials as it is:
after dedusting, the material is extruded with single or twin screw extruders as it is set by the customer.
No other processes are added such as grinding, dedusting or additive mixing.
Extrusion processes with additives:
before extruding the material as it is, we set the additives that are going to be mixed with the material together with the customer in order to keep him up with the processes of the material.
Packaging:
at the end of Circular Economy activity the customer should choose the type of packaging which can be: in bags of 25 kgs (different types of bags available); in octabins of 1000 kgs or on pallets of 110x130cm.