MEDICAL has been established with the purpose of providing ISO 10993 and USP VI certificated plastics in order to be involved in the production of medical disposable devices. We provide technical support specialists in the field of medical devices.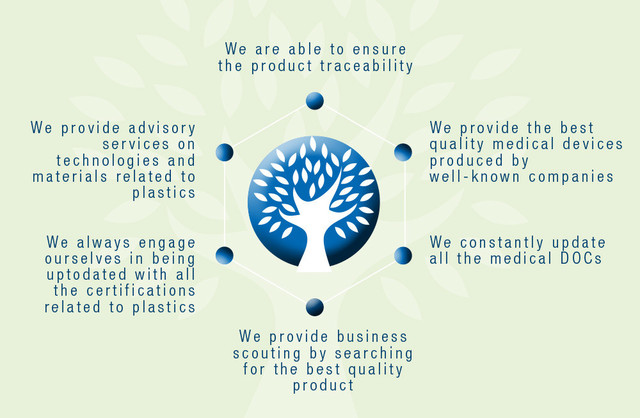 These are the passages that we follow in order to bring the right product to the right person:
We ensure the product traceability;
We provide advisory services on technologies and materials related to plastics;
We keep ourselves updated with all the certifications related to plastics;
We provide business scouting by searching for the best quality product;
We constantly update all the medical DOCs;
We provide the best quality medical devices produced by well-known companies.
The main characteristics of all the products that we supply are as follow:
High Strength and Stiffness;
High Flow;
Ultra-Smooth Finish on par with painted metal;
Sterilization with gamma radiation that does not degrade the mechanical properties;
They are quite versatile and provide medical device manufactures with the ultimate design flexibility;
Biocompatible per ISO 10993-5
Made with FDA compliant ingredients
DEHP-free, phthalate-free, BPA-free,
RoHS, REACH, SVHC, and Proposition 65 Compliant, Standard grades are free of animal-derived materials (ADM-free);
Best moldability in transparent resins;
Excellent Chemical Resistance;
Well-balanced mechanical properties;
Superior in secondary process / Solvent adhesion;
Biocompatible;
Stability during transformation: rheological behaviour.
Products that involve all the material that we supply:
Plastic Surgical Medical Disposable that could show the same performances as disposables made of metal;
Catheters, Drug Delivery, Gas Supply, Chest Drainage, Enteral and Parenteral Nutrition, Saline Bags, Waste Bags, Dialysis Bags;
Anesthesia Breather or Resuscitation Bags;
Inhalers;
IV Catheters Needle Hub;
Stopcock, Adapter, Connector;
Heat and Moisture Exchanger;
Tracheobronchial Suction Catheter;
Dialyzer;
Membrane Plasma Separator;
Chest Drainage Box;
Lancet Needle Hub.
By scrolling down this webpage you will read a full list of the products that we supply in the medical field.