07Dec2015
PEEK in 3D printing
Categories: Case History
« back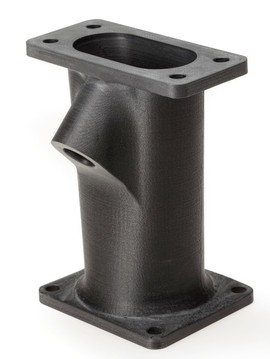 PEEK printed in 3D for motor plastic
Friday, December 4th, 2015 08:32.

Two different Solvay materials have been selected for 3D printing components that are suitable for engine plastic material prototype Polimotor 2. This is a project by Matti Holtzberg and its aim is achieving a propeller for sport cars made of light plastic material, less than 67 kg wheight, or 40 kg weight less than the current one. This new type of engine will be mounted on a car that will race next year.

The first manufactured component consists in fuel delivery pipe (fuel intake runners) which has been made of Reinforced Filament Fusion by Arevo Labs. It is a new technology for composite materials 3D printing because it involves KetaSpire KT-820 PEEK by Solvay, a polyetheretherketone with 10% carbon fiber reinforcement.


By replacing aluminum with PEEK, component's weight has been halved by maintaining high mechanical, thermal performances
(up to 240°C) and chemical resistance, leading it to perfect combination with fuel consumption.


Collector that is placed between plastic cylinder head and plenum chamber which is made in compound, enables the collector to inject fuel into the air stream and get it into combustion chamber with the result of engine power increase.

This technology has been developed by Arevo and it is similar to the manufacturing process of filament fusion (FFF) that provides successive layers deposition of extruded filaments that are warm extruded in order to create complex material shapes. The differences in terms of conventional processes lie on the possibility of involving thermoplastic glass or carbon fibres reinforcements.