30Jun2016
Seminar on Ryton PPS
Categories: Products Fairs and Events
« back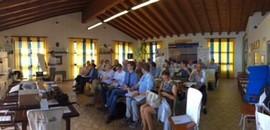 We as Nevicolor S.p.A. have arranged an interesting seminar for our sales network in Italy that regarded to the new product Ryton PPS as we are official distributor on the Italian scale.
Ryton® PPS
Main characteristics: thermal stability, dimensional stability, chemical resistance and inherent flame retardancy.

Ryton® PPS (polyphenylene sulfide) compounds show a unique combination of properties and unprecedent cost/performance balance:
Thermal Stability: a remarkable combination of both long-term resistance to temperatures up to 200°C (392°F) and short-term resistance to temperatures up to 260°C (500° F);
Dimensional Stability: even complex parts could be molded with very tight tolerances and it maintains dimensional stability even at high temperatures and in harsh chemical environment;
Chemical Resistance: resistant to a wide variety of solvents and corrosive chemicals even at high temperatures;
Inherent Flame Retardancy: All Ryton® PPS compounds have UL94 V-0 flammability ratings without flame retardant additives.