14Mar2017
Long fiber Polyamide
Categories: Products
« back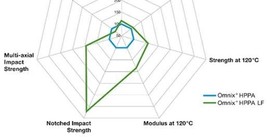 Solvay is pleased to introduce new products of the range Omnix with a high content of reinforcement suitable for metal replacement.

Solvay has two more products related to high-performance polyamides (HPPA) which belong to the Omnix range with high reinforcement content: Omnix LF-4050 are reinforced with 50% long glass fiber, which rises to 60% in the degree Omnix LF-4060, both suitable for metal replacement in semi-structural applications such as: automotive, appliances, sporting goods or industrial components.

The Omnix series has been formulated by the Belgian group to achieve performance in terms of resistance, high temperature resistance and hydrolytic stability that conventional polyamides 66 cannot achieve.
Stiffness raises by 10-15% at room temperature (23 ° C), increase that raise to 85% climbing with the thermometer (120 ° C). Notch resistace and multiaxial impact resistance are remarkable thanks to the function of long fibers which are in the matrix.

These two grades are available on a global scale in natural and black version.

Solvay is studying other reinforced material with long glass fibers such as Amodel (PPA), Ixef (PARA) and Ryton (PPS) which are technopolymers.