31août2022
Smart Plastics 2022
Classe/Catégorie: Foires et Événements
« back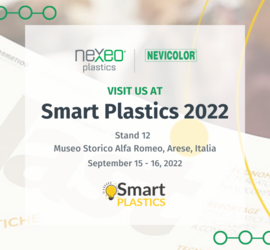 Smart Plastics 2022 - 9° Edition - The technopolymers
Date:
Thursday, September 15 – Friday, September 16
Where:
Stand 12 - Museo Storico Alfa Romeo, Arese, Italia
Visit us at stand 12 in the exhibition area to discuss trends in the polymer market, the impact on the circular economy, and the latest solutions and innovations from our suppliers.


Discover our polymer solutions suitable for metal replacement.
See the latest innovations from world-class suppliers.
Discover our sustainable solutions offering.
Learn about Nevicolor's added value capabilities and tailor-made compounds, such as our collaboration with Coffefrom and the coffee cup application made from a biobased material that included industrial waste coffee grounds.
Explore PLASTANALISI® and how our laboratory services can help improve the quality of your products.
Smart Plastics 2022 is the only event of its kind in Italy that brings together the world of high performance polymers used in all industrial sectors, including domestic appliances, automotive, medical,aeronautical, sports items,electrics/electronics, interior design, technical components, and others.
Smart Plastics 2022, now in its ninth year, brings together all of the industry's major players: material producers, suppliers and users of parts and components, process and automation system manufacturers, engineers and designers. Smart Plastics 2022 will focus on six main topic areas: Metal Replacement, High Performance, Lightweight, Surfaces, Sustainability and E-Plastics.
The presence of leading figures from academic and research, as well as world-class brand owners, will be a highlight. They will describe current trends in the field of innovative materials, processes, and applications.